I wasn't sure if I should name this post Image Inspiration or Stuff I'm Drooling Over. They both apply greatly to these photos. I was in the mood this morning to find new places. New places on the internet. I love my favorite blog list of sites I cruise regularly, but (like me) they sometimes don't post as often as I would like. Hey... none of we bloggers are perfect! Unless maybe the ones that get paid to blog but then what's the fun in that... besides the getting paid to do it part. I never really wanted to get paid to blog or venture down that route because I don't want to lose the fun in it. If it felt like a job I probably wouldn't want to do it... you know if I felt like I "had" to blog. Anyway, I found a few new places this morning... one happily leading to the next. Then one happily leading to me wanting to spend thirty one bucks on a piece of enamelware which isn't abnormal for my enamelware love affair that I have been in for simply years now. I'm probably gonna do it. Afterall... I don't have a cream can to put flowers in... and oh how I didn't realize I wanted one until literally within the last half hour.
Image Inspiration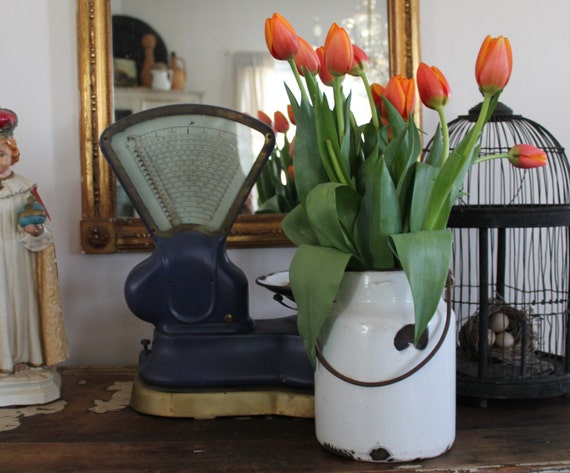 I know..... I'm going to have to bite the bullet. Probably as soon as I finish this post.
Found in this lovely etsy shop called Vintage Goodness. Oh she has some awesome stuff.
And... I own several floral paintings that live happily ever after in my bedroom. They aren't fancy but are oh so pretty to look at. This post from DesignSponge has got me wanting more. So in fact that I have already texted my sister this morning for a date to the next Nashville flea market. She gladly accepted.
Very prettily placed upon the top shelf.
This picture made me start a list of home décor updates. Intentions of moving my floral paintings to the kitchen and redecorating the blue barn wood shelf in the living room. I always have good intentions when I am not at home. Then I get there, tired after work, and it never happens. Maybe not "never". Sometimes it happens.
Also found on DesignSponge, I was led to a very talented illustrators blog named Frances Macleod. I adore the pattern below along with many of others she has. I am thinking of placing it on the background of this blog. If I can get it to work.

Ok, that's all for now folks. I have lists of blog posts that I want to do. Finding the time if a different story. So for now you get spur of the moment stuff. XOxo