Why exactly... with all of the enamelware that I own... have I never even thought of using them for my utensils? I like to use mine as vases to hold flowers but that's not everyday. I have my cooking utensils in crocks right now... right now... only because I am at work. This image inspired me to make the change from crock to enamelware by using items I already have.
Image found on moontomoon via this link

HERE

.

So after several years of being a non-concert goer... I will be headed downtown with my niece on Wednesday evening to see Kacey Musgraves at the Ryman. I am totally excited but am at a loss as to what to wear. I feel like when I get dressed up in what I think looks cute... when I return home worn out my choice in clothes seems more trashy than trendy and I wonder what I was thinking. I will probably do the same at this one. I can remember what I wore to my first concert ever which was The Steve Miller Band at Starwood a hundred years ago. I wore a two piece, navy blue with white polka dots, shorts and top combo that completely showed my mid which I could do back then. I think the people We went with were not prepared for my choice of clothing but as I read on a blog today that inspired me... Make no apologies for living your own life... which I didn't that evening but now looking back... wow. I'd like to be a little more thoughtful now. The pic above reminds me of a crochet white vest thing that I think I still have and of course I am dreaming of breaking out the denim patchwork jeans that I broke out seven years ago when I was the only one at the party who dressed up for the "dress up Halloween party" and went as Janis Joplin. I rocked it. I have four outfits written down so far. One of them being what I normally wear because that's what I love right now. Kacey has never seen me in it I guarantee you that!
Oh yea... I got the above pic from freepeople HERE when I typed in festival in their search because I know they share what to wear type of things.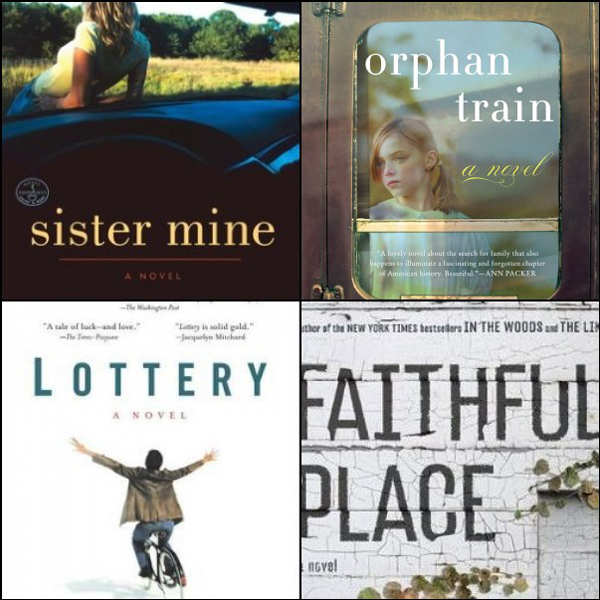 I was originally inspired by my sister who shared this post with me but then by the blogger who shared the book suggestions. I'm glad to know that I'm not the only blogger that shares books. I think I would mostly enjoy Faithful Place after reading her write ups but maybe Lottery too. We will see what my library has and give them a try. I still can't seem to throw myself into reading much these days. The post was HERE on livingvintageco.com